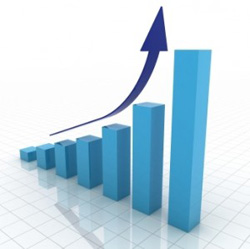 As the trusted "Perks Department" for your company, it's Abenity's goal to help you improve your employee engagement by providing consistent, unique, and relevant ways for you to connect with your team members. We've worked hard to give you hundreds of tools to do that. But before heading down the road of increased employee engagement, it's important to have an understanding of what success looks like.
Taking A Cue From The Voluntary Benefits Industry
In the world of employee perks & benefits, the most consistent and reliable benchmarking statistics available come from the voluntary benefits industry. Voluntary benefits are generally product-based employee benefits like life insurance, disability insurance, vision and dental coverage, and long term care insurance, so participation in these types of plans are easy to track on a per employee level.
According to a 2009 Top Trends in Voluntary Benefits survey by the International Foundation of Employee Benefit Plans (IFEBP), employers report various levels of voluntary benefit participation among their employees. Twenty-three percent of employers, the most common subset, report a participation rate of 20%-40%. Nine percent of employers reported that less than 10% of their employees participate in at least one voluntary benefit, while ten percent report that more than 80% of their employees participate in at least one voluntary benefit program.
Benchmarking Engagement in Your Abenity Perks & Benefits Program
In general, Abenity's customers will see voluntary participation rates around 40% in their first year, with up to 75% voluntary participation after 3 years! You can expect for your ongoing engagement rate to fall between between 8% – 15%. Our accounts with the best engagement rates enjoy 20% – 25% ongoing engagement rates.
At Abenity, we define engagement as an active, registered Abenity member who is opted-in to receive the monthly Abenity Spotlight email newsletter.
[postquote quote="We recommend that your baseline benchmark for employee engagement with your Abenity Perks & Benefits program be at least 20%."]
Measuring Your Program Engagement
We've provided you with a number of different tools to track and analyze your Abenity program engagement. Your Back Office includes a Track Participation page under the My Account tab showing you the total number of Registered Members, the number of program logins in the last 5 months, and participation in the Monthly Spotlight Email. You can also receive this information as a Monthly Performance Report from Abenity.
To calculate your Program Engagement rate divide your Total Employee Population by your current Registered Abenity Members. Next, multiply the result by your Monthly Spotlight Email Participation Rate, and finally multiply that result by 100.
[inlinequote2 quote="Program Engagement = (Registered Abenity Members / Total Employee Population) x Monthly Spotlight Email Participation Rate x 100″]
For Example: Let's say you have you have a Total Employee Population of 10,000 and 3,000 of them are Registered Abenity Members. And finally your Monthly Spotlight Email Participation Rate is 95%. Here we are experiencing a Program Engagement rate of 28.5%, above the 20% baseline we recommend.
[inlinequote2 quote="(3,000 / 10,000) x .95 x 100 = 28.5% Program Engagement"]
What If Our Program Engagement Rate Is Below 20%?
If your Abenity Program Engagement rate is currently above 20%, congratulations! You're doing a great job communicating your corporate perks & benefits and your employees are responding by engaging with the program. Keep doing what you're doing while continuing to increase your program participation.
But if your Program Engagement Rate falls below 20%, don't worry. We have plenty of tools and resources at your fingertips to help you increase participation and market your program successfully.
First we would point you to the Marketing Gallery in your Abenity Back Office which includes email copy, program announcements, flyers, and videos that you can use to promote your program.
Next we would encourage you to consider these top five engagement practices:
Continuing Your Engagement Success
It's our desire to help you achieve and surpass your engagement goals. We will continue to add additional resources to your Back Office Marketing Gallery, and post helpful engagement ideas on this blog. Please reach out to your Abenity Client Executive if we can do anything to help you build participation with your Abenity Perks & Discount program.
[boiler]